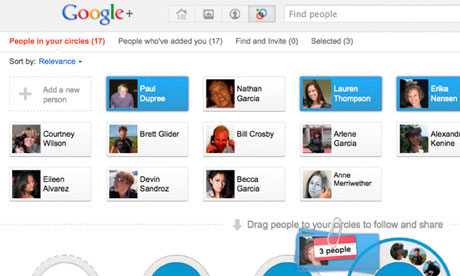 A hand-picked number of people have recieved their invites from Google. Media outlets around the world are running press releases, stories and speculation. All because Google have finally thrown their hat into the social ring with a full blown social network.
And it's called the Google + Project. No, we don't know why it's got nearly the same name as the Google +1 social sharing function either.
The invite only 'Field Trial' begins today, with a number of leading lights in the technology industry claiming to be part of the initial testing team. Unfortunately The FirstFound Blog's invite seems to have been lost in the post, but we can tell you a little more about the service:
What does it do?
Google are launching over 100 products as part of the + Project, including the following social tools and features:
"Circles" – + doesn't have an all-encompassing friends list. You get to organise your friends and contacts to make sure the right social content is shared with the right people. Your friends will hear about trips to the pub, and your colleagues will hear about your theories on Google's latest algorithm changes.
"Sparks" – an "online sharing engine". This is where the +1 sharing function comes in. You can search for what interests you (remember when that was all we used Google for?), share it with friends, and probably drive them to distraction by unduly affecting their search results.
"Hangouts" – social video chat. You can create an open, public video conversation that your friends can see, join and influence by sharing their +'d content.
"Huddle" – a mobile chat functionality that will bring together users of iOS (that's your iPhone), Android and SMS text messages to chat.
"Instant Upload" – Any video or picture you take on your phone is automatically uploaded to your Google+ account. We're hoping this has stringent security, as are politicians and footballers everywhere…
"Location" – It's another Foursquare clone!
Is it Going to Affect SEO?
It's too early to tell, but we'd hazard a guess and say that being signed in is going to give you personalised search results. Which is great if you share tastes with your friends. And not so great if you don't want to end up buying the exact same clothes as your mates, just because they've +1'd the shop.
As for the algorithm – it wouldn't surprise us if Google + is somehow going to be incorporated into the algorithm. Just don't ask us how.
And what about privacy?
Privacy campaigners are going to have a fit. If you use Google +, Google can track who you talk to, who you're friends with (and why you're friends – socially, through school, via work, etc), what pictures you take, where you are… The list goes on.
We think this may put people off using the service – along with the fact that it'll take something massive to turn people's heads away from Facebook. The amount of hype surrounding today's launch has been staggering, but we imagine the privacy backlash will be even larger.
Expect to see controversy, and lots of it.
When can we see a hands on?
In short, we don't know. Google haven't announced dates for an open beta, let alone a full product launch.
We'll keep you up to date with the project as it unfolds. But for those desperate for news, Search Engine Land have promised a hands-on look at the service later today. If you're interested, we recommend checking their site this afternoon.